Industry:

Technology
Transport
Energy

Awards:

Red Dot Design Award 2021 - Brand and Communication

Category:

Brand Strategy
Brand Positioning
Brand Identity
Motion Design
Naming
Illustration
Zaptec leads the EV charging market in safety and is certified with the highest safety standards, imagined, designed and produced on the west coast of Norway. With development of a new product, the smallest and smartest EV charger on the market, they where in need of a refreshed visual identity. They also asked us to help them develop a new name and communication concept for the new smart charger.

Zaptec is a modern explorer, who makes it easy for their customers to go on new adventures. With their human-centred design they offer highly intuitive and efficient EV chargers that ensure easier access to personal electric transport. By offering leading edge, green-tech charging solutions, Zaptec enable the electrification of the transport sector while giving people the freedom and potential to travel into a more sustainable future.
The visual concept has been developed on the foundational principle that Zaptec will facilitate new adventures – Zaptec powers adventure. The grid refers to familiar design principles from, for example, tourism in the use of tickets, tables and digital information boards. The grid is in this way intended as both as guideline for designing different layouts, but also as a visible design element on more technical outlets that deal with product specifications. This is how we visualise our role as a clear and orderly facilitator for the next adventure.

The technology company Zaptec has undergone major transformations since its establishment in 2012. Therefore, it was time to launch a new visual profile in 2020, to position Zaptec internationally as a forward-thinking brand in the field of electric car charging. We redesigned their identity as a modern explorer, the brand design focuses on the freedom that comes from charging one's car at home. The new brand name Zaptec Go that also conveys innovation.

Brand Strategy
Brand Positioning
Brand Identity
Motion Design
Naming
Illustration
The Z sign is reminiscent of lightning as a symbol for energy, which is also expressed in the slogan "Zaptec Powers Adventure".
The company's Norwegian roots are reflected in the natural colour palette. The image style inspires a greener everyday life.
About the same size as a digital tablet and weighing 1.3kg, and with a range of 6 carefully selected colours, the Zaptec Go blends seamlessly into your home.

3D by the talented people over at Frame. Photography by Marthe Thu.
It goes without saying that you would prefer to charge your electric car at home. It gives you the freedom to charge when it suits you. The illustration style is simple, functional and explanatory. Go wherever, whenever.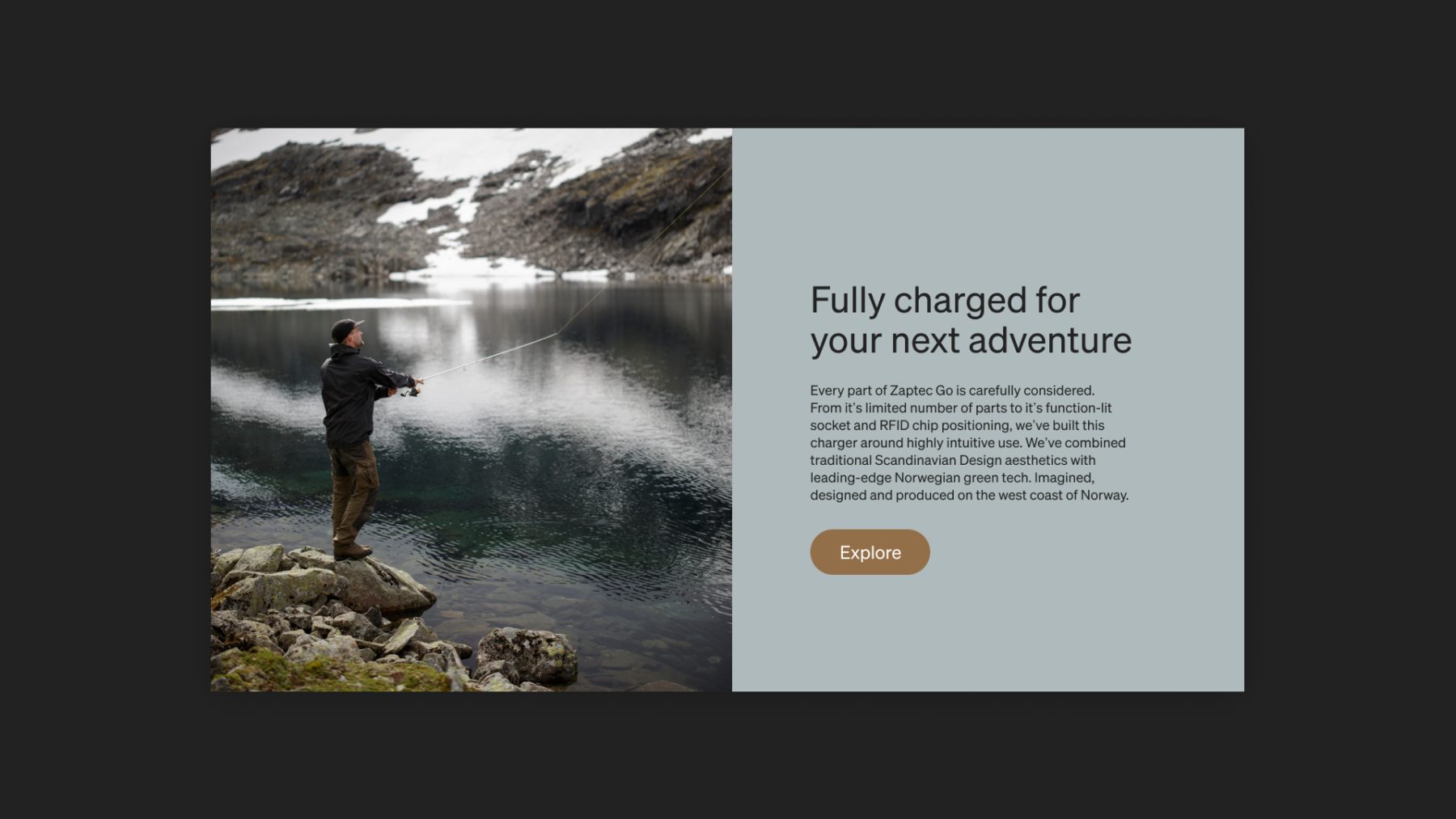 No matter what you drive or where you're going, Zaptec Go is the surest way to power your journey.